Migrant women face special troubles in their journey to the U.S.
By Olivia Solomon
Palmetto High School
On July 4, 1988, Ana Perez arrived in Miami, a journey that included a year in Panama, a flight to Mexico and a 38-hour bus ride. She did all of this while pregnant and with a 3-year-old in tow. She fled her native country of Cuba with the goal of a better life in the United States.
But the road to that goal was less certain.
"Naturally, it's scary going to the unknown," Perez said. "We didn't know what was going to happen. My God, what tense moments those were." (Family names have been changed to protect their immigration status.)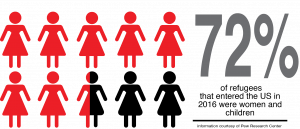 Perez joined thousands of women who flee their home countries every year to escape violence, spousal abuse or persecution. An estimated 85,000 refugees legally entered the U.S. in 2016, 72 percent of whom were women and children.
The Trump administration's recent decision to separate families trying to cross the U.S. border has drawn sharp criticism, but the difficulties immigrant women face coming to this country are nothing new.
The journey from refugee to resident often takes a toll on women's physical and mental health. Many coming to the United States find the resources they need, but some fall through the cracks. Even once here, women are often overwhelmed by other obstacles, requiring their health to take a back seat.
"We deal with some pretty serious traumatic cases," said immigration attorney Laura Kelley. "Cases where people have been kidnapped, and one in particular where a women was chained (in) a house for months and repeatedly raped."
Kelley, who defends immigrants all over the country in their fight to receive asylum, stressed that making it to the United States does not guarantee immediate entry.
She represented a Guatemalan woman who was detained with her female partner in the Krome Detention Center in Miami "for well over a year." One of the women suffered from mental illness because she was so severely traumatized and was transferred to Atlantic Shores, a mental health treatment center. There she was handcuffed to a bed and suffered additional physical injuries as a result.
Unfortunately, many women who encounter difficulties in their journey face denial and deportation.
"Every single case is impactful, but unfortunately, not every case is eligible for relief," Kelley said.
Those women admitted can expect their challenges to continue.
Sandra Lozano-Barry, director of the Light of the World Clinic, said many immigrants neglect health issues as they focus on things such as jobs and caring for their families.
Patients who have not received medical care on a regular basis may later discover that they have chronic illnesses, such as cancer, that could have been prevented or successfully treated if caught early.
Lozano-Barry's clinic aims to change this.
Located in Broward County, it offers free medical care for at-risk and disadvantaged residents. While the clinic has a strong policy against asking patients their legal status, it is safe to say that a large percentage of their clientele are undocumented immigrants.
"We deliberately do not ask," she said. "Our founder never believed in that. Someone's legal status has nothing to do with the medical care they should receive."
For mothers, the fear of bringing a child into a new place comes with many concerns, especially when it comes to medical care.
"I prayed that my pregnancy would go smooth despite all the worries we had about leaving," Perez said.
Once in the United States, the Perez family was given temporary parole, a status that includes health insurance through Medicaid. While they were still not yet residents, Perez said that she was able to find doctors and had frequent visits to the OBGYN.
While a happy ending is not guaranteed when a woman undertakes the travails of immigration, the Perez family's story has one. Ana Perez got the care she needed, and gave birth to a healthy daughter.
"She was the first U.S. citizen of our family," she said.