Vaccination vexation: Moms in the gray areas of debate
By Benjamin Schiller
Saint Andrew's School
South Florida parents are torn between whether to vaccinate their children as volumes of information come to light from legitimate and less reputable sources about the effects of injecting their children with supposedly non-lethal amounts of dormant viruses.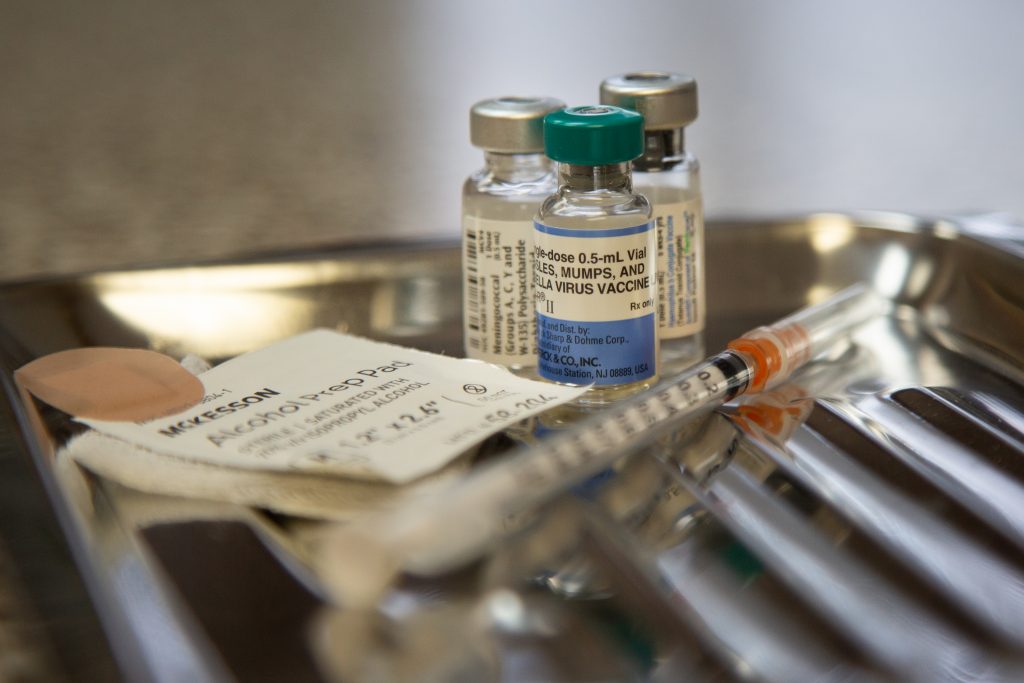 Angelique Gerow, a mother of a boy and a girl in Plantation, is a supporter of the anti-vaccination movement because of what she read regarding the ill effects from toxins and stimulants used in vaccinations.
"I think it is too much to inject vaccinations into the tiny bodies of newborn children," Gerow said.
Gerow and her husband are so committed to their beliefs that he followed the hospital's medical staff immediately after she gave birth to assure their new-born son Grayson was not vaccinated.
Grayson needed the mandatory vaccinations before starting preschool, so Gerow formulated a plan in which Grayson would receive one vaccination at a time instead of the cocktail of immunizations all at once.
Isolation would allow the family to see the reactions. Grayson had a negative reaction to the Hepatitis B shot, which supported Gerow's theory.
More than 4,000 students entered kindergarten without being vaccinated due to exemptions at the start of the 2018-2019 school year in Miami-Dade, Broward and Palm Beach County Public Schools, or 7% of 54,000 pupils, the Sun-Sentinel reported in April 2019.
In Florida, 11,500 students entered kindergarten with a vaccination exemption, or about 6% of 200,000 students.
"A request for a religious (or medical) exemption from immunization requirements must be presented to the facility/school on the Department of Health's Exemption from Immunization form," the National Vaccine Information Center said on its website.
Many parents can relate to the Gerow's experiences with immunizations.
Jessica M., a mother of two in Miramar, said she almost died when she was an infant. After receiving the EDP vaccination, which is no longer used, Jessica's brain became swollen and her body became red and puffy, she said.
Now, 25 years later, Jessica's 9-year-old son received a series of vaccinations. Jessica claims these vaccinations gave her son speech issues, chronic ear infections, motor ticks and depression. Due to privacy concerns, Jessica would not provide Miami Montage with her last name or the names of her children.
Jessica concluded that the aluminum salt in the vaccination lead to a toxic effect in her son's brain. The only way that the aluminum salt could be removed is through detoxification, a medical removal of toxic substances.
The detoxification of the aluminum from the brain needed to be done quickly because the blood brain barrier seals around the age of four, Jessica said.
Detoxification is a common practice for children who develop severe issues from vaccinations. Lyndsay S., a mother of five from Austin, Texas, said that her son, Jude, also suffered severe complications from vaccinations when he was 2 years old and and was detoxed.
After his immunizations, Jude lost 60% of his speech, couldn't walk, and screamed for 12 hours at a time. Also, Jude had black tar in his bowel, rashes all over his body, and sensitivity to light and movement. Like Jessica's son, Jude developed ticks.
More than $100,000 later in medical bills, Lyndsay and her husband, Jason, who suffers from Methylenetetrahydrofolate Reductase (MTHFR), realized Jude had the disease. MTHFR is a genetic mutation that could lead to behavioral and physical problems caused by immunizations.
"Parents need to know their child's genetic makeup before allowing them to receive vaccinations," Lyndsay said.
The Marie family from Fort Knox, Ky., is in favor of vaccinations.
Jeannette Marie's three children, Norah, 10; Lilah, 9; and Brenna, 7; receive their flu shots annually and receive all vaccinations when required. The family has followed the same procedure for Jeannette's step-daughter, Mercedes, 12.
The children attend school on a military base, which requires vaccinations. Children on bases can still be exempted under more difficult circumstances. With strict rules and a neighborhood that preaches respect and discipline, Marie's said it be immoral to disobey the school's requirement.
Working with vaccinations also is normal for Carrie Falowski, a mother of two from Fort Lauderdale. Carrie is a nurse in adult care.
Her sons, Keagan, 4, and Aiden, 3 months, are up-to-date with their vaccinations and have not suffered any illnesses or injuries from immunizations. Falowski said the vaccinations commonly used across the world have been around for more than 50 years.
"If the vaccinations have been tested for decades, then why would they give them to our children if there was something wrong with them?" Falowski said.
"Everyone has a choice and right to what they want to inject into their bodies."