Montage students bond over health and wellness journalism
David A. Perez
Christopher Columbus High School
For the first time in 11 years, Miami Montage students moved into their dorm rooms at the University of Miami in mid-June, rather than the traditional date after the 4th of July.
Not only were these students the first class to start Miami Montage production early, but they also reported on complex issues such as the word gap, LGBTQ+ sex ed and shooter drills.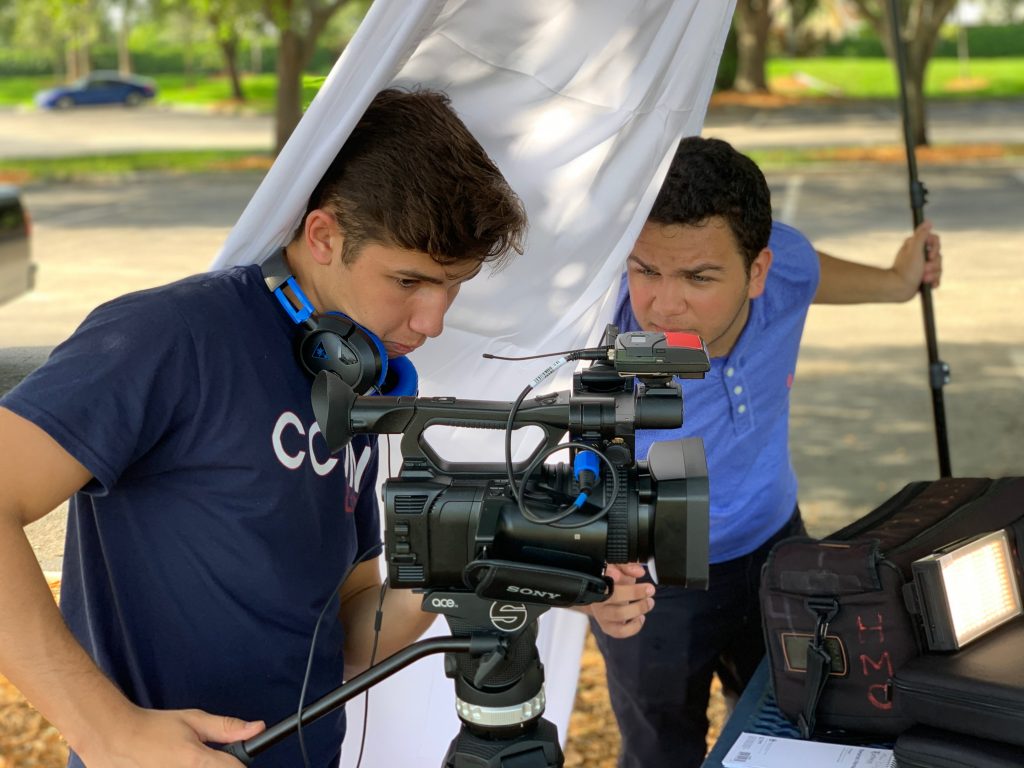 When applying for the Peace Sullivan/James Ansin High School Workshop in Journalism and New Media for summer 2019, students expected to gain journalism experience, but many did not realize the connections they would make with one another.
Abigail Tuschman, 17, is one of these students and the author of "Word gap can have lasting impacts on the most needy children." The story deals with the word gap between children who are read too often and those who aren't.
"I think that we all come from such different schools," she said. "So becoming friends with people from different areas, who are all student journalists, helps you learn how to really accomplish the goals that you set out for your publication at your own school."
Being one of the 16 high school students from across Florida to join the Miami Montage 2019 staff, Tuschman was thrilled to learn more about her passion — journalism.
"I think Montage means exposing student journalists to different forms of storytelling and enriching those skills so they can take back new knowledge to their publications," she said.
From the moment students arrived, they began learning what it was like to work on a magazine and accompanying web site. Staff members welcomed students to the program with a news story brain-storming session. With the help of faculty, students were assigned stories related to health and wellness in order to create Miami Montage.
Not only did students begin reporting and writing during the first week, but they also began forging friendships.
"It's really interesting to watch from an outsider's perspective," said Reagan Creamer, a 2016 Miami Montage alumna and 2019 counselor/editor. "I think that they're all growing and learning together. They're also able to have fun writing stories and doing videos."
As the days passed, responsibilities rose. Students were not just expected to write articles, but to serve as broadcasters and photographers as well. Students came into the program with different strengths and began learning skills in multiple aspects of multimedia journalism.
"I feel I'm really strong with the broadcasting aspect but to basically become a great journalist, you'll need to have all traits such as writing and photography," said Benjamin Schiller, 17, author of Ride shares replace ambulances for doctor and ER visits. "For me, I'm acquiring the writing and photography skills by coming to Miami Montage."
For Miami Montage co-director Fred Blevens, there is something truly special about the program, which launched in 1984.
"The change you see in a student over a three-week period from beginning to end, is like nothing else you will see," said Blevens, who has been co-director since 2008. "The connections that are made during Montage are something I have never seen before."
Schiller agrees, adding that he is proud to say that the friendships he has created are significant.
"I can assure you that 20 years from now, I will see one of the kids here somewhere and I'll spend time connecting with them again," he said.
Luis Gonzalez, 23, a 2013 Miami Montage alumnus and 2019 counselor/videographer, said all students make connections that last a great deal of time.
"Everyone wants to hang out and everyone loves one another," Gonzalez said. "It's so funny. The first week they all want to go home and by the third week they never want to leave. It always happens."
Along with other staff members, Gonzalez has given up his own time to ensure that students have a meaningful experience. While this may be an overwhelming commitment for some, it keeps Gonzalez going.
"The kids keep me coming," he said. "Seeing the fire that they have, and how quick they pick up on stuff, it never fails to keep me grounded."
During this year's magazine production, students bonded over reporting on health and wellness topics. Students covered the use of CBD oil in humans and animals reported on the effects of marijuana on mental illness and other topical issues.
Alexander Someillan, 17, reporter on Farm-to-table trend brings local flavor to restaurants agreed.
"I'm truly never going to forget my time here at Montage," Someillan said. "From the bonds I've made to the story I produced, this has easily been one of the best experiences of my life."