South Florida schools often emphasize abstinence over sex education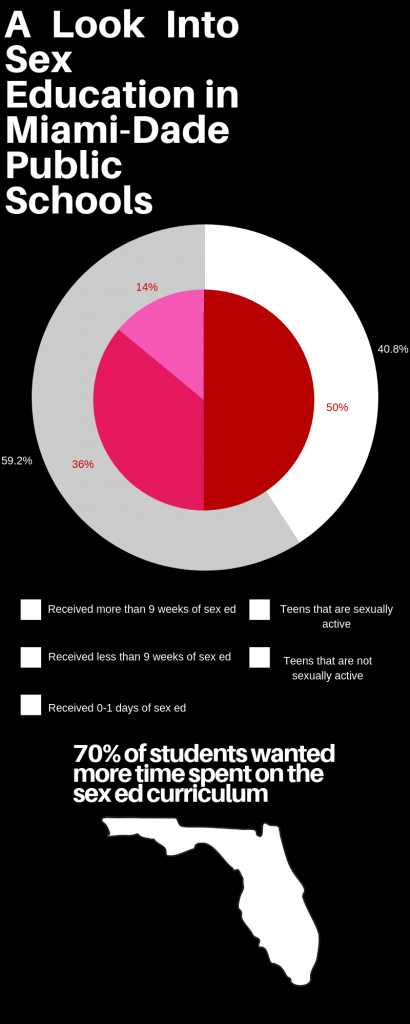 By Caroline Wheeler-Hollis
Creekside High School
Phoenix Alexis-Pierre has gone to public school in Miami-Dade County all his life. He took sex education in fourth grade, middle school and high school. But now he's concerned that his sexual instruction is inadequate.
"Honestly, I don't have a lot of knowledge about sex," Alexis-Pierre said. 
Alexis-Pierre is not alone in his concerns. The Youth Risk Behavior Surveillance System reports that 40.8% of teens aged 15 to 19 in Miami-Dade County are sexually active. Meanwhile, 36% of students in Miami-Dade County Public Schools receive one or no days of sex education, according to the Miami Workers' Center.
Florida law mandates that abstinence be taught and the consequences of teen pregnancy as the basis of sex education. But many question how well that methodology prepares students for life.
"A lot of it didn't really apply to what you see in the real world," Christopher Gomez, a Catholic student, said in regards to abstinence education.
Alana Gissen, a social worker and sex therapist, said abstinence-based sex education is unrealistic and does not provide complete, accurate health information.
"They [teens] might try to be abstinent but it eventually doesn't work," she said, "and if they are not educated properly then they don't understand their bodies, sexuality, STDs and the various types of contraception."
Besides abstinence, the sex education programs in Miami-Dade emphasize anatomy.
"It's not as in-depth as they make it seem," Alexis-Pierre said. "It's like, 'oh sex is something that exists you should probably not do it,' and then they move on to the actual scientific thing. It's more scientific than it is social."
An abstinence-only focus may instead lead to more teen sex.
"The moment we're told not to do something, that's what makes us want to do it more," Alexis-Pierre said. "Instead of that, just tell us to be safe while doing it."
Students in Miami-Dade want to learn more about sex. Miami Workers' Center reports that 70% of students in Miami-Dade requested that more time be spent on sex education. Although Miami-Dade County Public Schools provide information about protection on their website, little of that makes its way into the classroom.
In addition to safe-sex practices, students want to know more about the social implications of sex.
"Knowing how you may be treated after sex or knowing how it's going to affect you later should be the focus of a course or a focus on at least a section of a course," Alexis-Pierre said.
Alexis-Pierre learned about STDs during his sophomore year at MDCPS. Alexis-Pierre detailed the information that the guidance counselors provided.
"They didn't teach me to prevent; they just kind of said there are condoms and there's just abstaining from sex, period. It was more the abstinence route than the protection route."
In contrast, Broward County Public Schools teach comprehensive sex education. Melissa Sherman, a parent and 18-year BCPS educator, feels Broward's program better informs students about consent.
Sherman recalls a teenage boy refusing to put mics up the back of girls' shirts for a theatre production.
"Ten years ago a 16-year-old boy would never have known enough about consent or body limits to have even the thought to say, 'I'm not going to touch a 12-year-old girl and put a microphone on her shirt,' but this 16-year-old boy knew clearly in his mind that he wasn't going there."
Although the consent education appears to be working in Broward County, parents in Florida can choose for their children to skip sex education.
"What I noticed happened at my daughter's school was a lot of parents simply opted-out," Sherman said.
The absence of in-home sex education from parents leaves kids to eventually educate themselves via the internet, Sherman said.
"I have known children who … had never had any sexual contact on their own, and their first exposure to it was pornography at 11 or 12," Sherman said. "That's really dangerous because that is not at all what healthy sexuality looks like."
Parents who opt out are not seeing what happens in school when there is no consent education in sex education.
When she taught middle school, Sherman discovered that some girls had to give three blowjobs in the boys bathroom with a witness to be accepted into the "popular club." Educators are aware of similar situations, but many parents are not.
"I feel like as teachers we want to do more than parents are comfortable with us doing," Sherman said. "As teachers, we'd be happy to step in and fill that role but we face a lot of pushback from parents who still believe that it's their job. "Well if it's your job then do it, but they don't."